Now I've learned how to transfer the articles from the paper to Protrack. Here's last week's Port Adelaide review.
http://messenger.smedia.com.au/portside-weekly/shared/ShowArticle.aspx?doc=MPSW%2F2017%2F11%2F08&entity=Ar05401&sk=4C7C9696
Stenson dedicates his run win to coach
By Paul Young
Portside Weekly
8 November 2017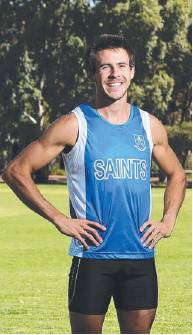 Dylan Stenson
LONG-DISTANCE runner Dylan Stenson overcame an emotional week to claim the tape in the 550m Open at the Port Adelaide Athletics Carnival on Sunday.
Stenson's coach Judy Daly died last Tuesday after a battle with cancer and the 2018 Commonwealth Games hopeful paid tribute to his mentor after triumphing.
"I'm dedicating this season to Judy Daly," the 2017 state 400m, 800m and 1500m champion said.
"Without her, I would never have achieved what I have."
Meanwhile, Sebastian Baird's decision to change stables during the winter paid off in his first start of the SA Athletic League season when he triumphed in the Port Gift.
Baird joined the WASPS stable under the guidance of Charles Sheffield after finishing second at the Loxton Gift last season and at the weekend, Baird (5.25m) swept the field in the 100m Gift in 10.53 sec. Max Hagicostas (6.75m) finished half a metre away in second place and event backmarker Clay Watkins (2.0m) claimed third.
AFL Grand Final boundary umpire Matthew Konetschka prevailed in the 1600m Open after fighting off a determined challenge from Craig Thorley-Mills and Jordan Harvey.
The Nik Hagicostas squad took home four sashes, after dominating the open women's events. Rose Pittman scored a double in the 70m and 550m, Caitlin Stallan was victorious in the 100m and Lakara Stallan recorded a stylish win in the under-14 100m.
In the under-18 300m, Team Tempo's Melarn Murphy reeled in the Camden pair of Katherine Dowling (32m) and Lara Chehade (40m) to take out the girl's race.
Brighton beach sprinter Joseph McKinnon (40m) collected his first sash in the boy's event when he held off Anthony De Ruvo (36m) and Aidan Murphy (14m).
In the 300m novice, teenager Luis Lawrie-Lattanzio upstaged his older and more experienced rivals to break through for his first open age victory.
Kyle Roberts edged out Misha Lizoguboff and Lewis Abdul in the 70m Open.
Southern Athletics' Salvador Jurado wrested back the lead after being headed by backmarker Gregor Dingwall down the back straight to claim his second 1600m over-35 sash at Port Adelaide, having won the event in 2014.