ATHLETICS
Ready to defend his crown
By Patrick Keam
Coast City Messenger
31 January 2018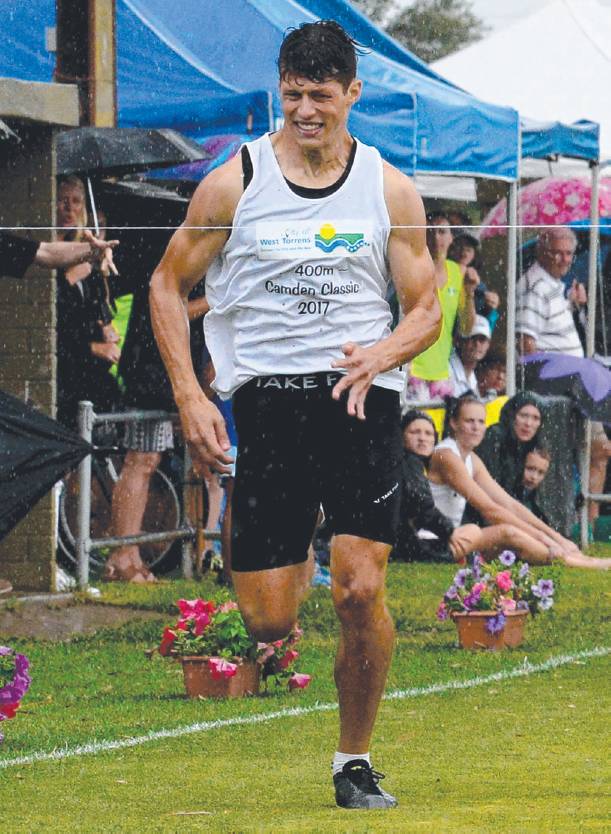 John Evans charges to the line to take out the 2017 Camden Classic. PICTURE: SAM WUNDKE
IT WAS 18 months ago that John Evans turned to athletics after a broken collarbone playing football forced him to reassess his sporting future.
And after taking out the Camden Classic last year, Evans is now gunning to be just the second male to win back-to-back titles in the event's 38-year history.
"Looking back it was definitely a good move," Evans, 21, says.
"It started as a bit of fun and I only really started taking it seriously last year leading into the Camden Classic because my coach thought I had a good chance."
Evans was forced to drop out to last just as the field straightened for the run home at Camden Oval but moved to the outside and sprinted past the pack to win the biggest prize of his short career.
The breakthrough win in the 400m classic capped off stunning debut season in SA athletics. It included five wins and six placings in his first 13 starts.
The Mount Barker athlete said winning at Camden was worth the hard work – even all the 40-minute drives down the hill to training at Western District Athletics Club.
"It was probably the best feeling I've had in a long time – just that relief," he says.
"I made it difficult for myself leading into the final stretch but I had a better kick than the rest of the field and was able to finish hard."
Evans was inspired to take up athletics after visiting the AIS in Canberra four years ago as part of a school excursion.
He competed in Little Athletics for two years before switching to football.
Evans says he expects a tough field but is confident his preparation for Saturday can pay off again. "I'm just going to give it everything I've got, not leave anything out there."