http://messenger.smedia.com.au/southern-times/
Sprinter Richards dedicates his Flagstaff Gift sprint title to dad
ATHLETICS
By Paul Young
Southern Messenger Press
7th March 2018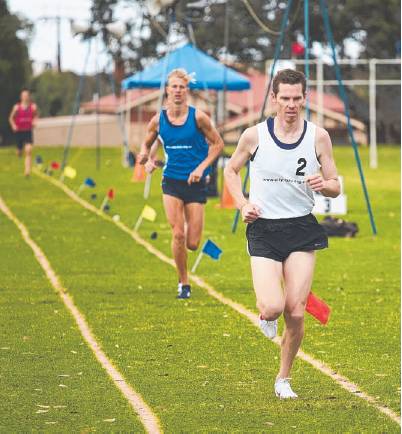 Jordan Harvey (white) won the 1600m open at the weekend's Flagstaff Gift meeting. PICTURE: MATT LOXTON
EMOTIONAL Western District sprinter Brett Richards paid tribute to his late father after claiming victory in the 23rd annual Flagstaff Gift on Saturday.
Richards (5.25m) edged out Flinders athletes Damian Tohl (9.0m) and Jordan Tronnolone (8.0m) in 12.76 sec.
Richards dedicated the triumph to his father, Clint, who died last year after a long battle with cancer.
"I'm feeling emotional today," Richards said.
"This is my first win since Dad died last year, so this one's for him."
"It's great to be back running half-fit again."
Richards will be among 17 South Australian competitors vying for glory in the Stawell Gift at Easter.
Caitlin Francis (11.5m) collected her second women's 120m sash, overcoming Demi Axford (15m) and Rosa Twyford (12m) just before the line.
Western District's Dale Woodhams continued to impress with his second 70m triumph in a month. In doing so he recorded a time of 7.49 sec – the fastest the race has been won in since 1999.
Two athletes claimed their first sashes in the under-18s 70m. Flagstaff Hill's James Hackett won the boys race, while Brighton's Airlie Rouvray pipped her stablemate Zoe Smith on the line in the girls final.
The Camden Athletic Club made it a clean sweep in the 400m as James Jolly (novice), Simone Rothe (women's) and David Holmes (over-45s) gave the Frank McHugh-coached squad a treble.
Flinders' Tom Lancaster watched his coach Jordan Harvey win the 1600m open before running away from a small field to add the 550m sash to the one he collected for his victory in the 800m at the Bay Sheffield carnival.
Joseph McKinnon secured his third sash from his debut season after prevailing in the under-18 mile.
Flagstaff Hill's Samuel Burbridge triumphed in the under-14 550m, beating Coastals' Joe Chigwidden.
WASP's Dan Semmler prevailed in the over-35s 120m from stablemate Tim Johnson, who flew home off the scratch mark.