http://www.scotsman.com/the-scotsman/sport/other-sports/school_training_pays_off_as_lister_wins_new_year_sprint_1_2033306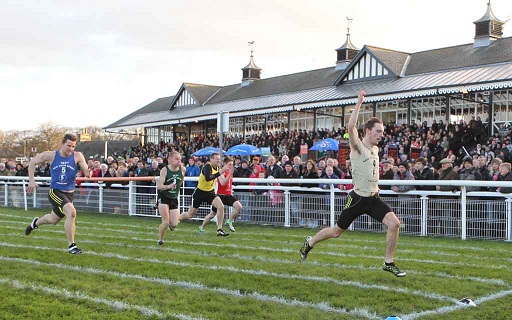 Graeme Lister winning the final with ease.
Photo: Grossick Racing Photography.
'School' training pays off as Lister wins New Year sprint
The Scotsman
Monday 2 January 2012
The Lang Toun produced one of the most convincing winners in modern times when Graeme Lister, the 1-3 favourite, captured the £4,000 first prize for the 143rd New Year Sprint with a margin of almost five metres over Borders student Seb Harrison (Jedburgh), with William Martin (Glenrothes) third and early favourite Keiran Reilly (Edinburgh AC) fourth at Musselburgh Racecourse yesterday.
A 25-year-old buyer with a metal company, Lister – who lives in Kirkcaldy, as does his coach Eric Simpson – was timed at 11.62 secs for the 110 metres handicap from his start of 12.5 metres, with Harrison timed at 12.09 and Martin 12.11.
For Simpson it was a second victory in a row at the New Year meeting and he insisted it was all down to his "school" training on grass at the Beveridge Park, which he contrasted with the "tartan" synthetic surfaces favoured by rival training groups.
"Graeme's not missed a training session since we started preparing for the meeting last August and he's made an amazing improvement – he's found five metres," said the former Edinburgh teacher. "It wasn't till two weeks ago that I thought he could win the race, when I looked at the watch after a time trial and thought, 'Oh ho'.
"I still don't think he's a sprinter – more a middle distance man – and I think he'll move on to 400m or 800m," added Simpson, who admitted he was less emotional this time than he had been when Martyn Paterson triumphed the previous year.
Lister, who did not bet on himself and was not surrounded by the usual entourage of family and friends often associated with New Year winners, was aware his training had been going well, but he himself did not believe he could win until after the heats on Hogmanay when he wiped out the betting by winning heat seven in 11.55 secs, the only person to break 12 seconds.
"I was more nervous before the first day, as I was in one of the toughest heats, and I was surprised at my winning margin. Adrenaline must have pulled me through," he said.
Lister revealed that he had had an interesting year, having tried the Lochaber Marathon – a "bit of disaster as it took me four hours" – and a half marathon which he ran in "a more respectable 83 minutes".
Complaints about Lister's handicap were rife among both bookmakers and rival groups and there were dark mutterings from both quarters that they may not come back.
Certainly, the contrast between Saturday's sparsely attended first day and yesterday's near full house National Hunt Meeting could not have been more stark.
Bookmakers Cumbie Bowers and Peter Collins insist that they will not be back due to their very poor takings, while respected coach Charlie Affleck will tell his athletes at a meeting next week that he will not train them for next year's meeting.
Weather permitting, the new Pitreavie Gift professional meeting promoted by handicapper Don Campbell will go ahead at the Fife Track on Sunday 29 January and, at least there, the athletes have an indoor area where they can warm up. "We were given a tent but had to stretch on the grass," one said.
That may have been good enough for Highland Games, even good enough for Lister to train on, but today's athletes want a bit more cossetting, especially in mid-winter.