http://www.guardian.co.uk/sport/blog/2010/nov/21/athletics-world-records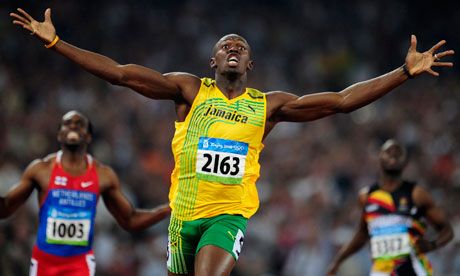 Usain Bolt was the first man to run the 100m in under 9.7sec.
Hold on to your hats: scientists do not know how fast people can run. A leading expert believes it could be many years before we understand the limits of human performance
By Anna Kessel
The Observer,
Sunday 21 November 2010
When Usain Bolt ran in the 100 metres final at the Beijing Olympics he became the first man to go under 9.7sec. The world looked on in awe. A year later Bolt did it again, becoming the first to better 9.6 when he set the world record of 9.58. His athletic feats led many of the world's most distinguished scientists to ponder just how fast a human can possibly run.
Some are already sure of the limits. In 2008 the French Institute of Sport concluded that athletics world records would hit a ceiling in the year 2060. The Institute analysed all 3,260 world records set since the first modern Olympics in 1896 and found that, while athletes were performing at 75% of their potential in 1896, in 2008 they were functioning at 99%.
Others looked more closely at Bolt's potential. A scientific paper produced by Cornell University analysed the Jamaican's Beijing run of 9.69 in which he famously slowed down to celebrate his victory. Had he not done so, the scientists believe, he could have won in 9.55sec. They went on to predict that Bolt was capable of breaking the 9.5 barrier.
Another study by Mark Denny of Stanford University claimed that the absolute limit for any sprinter would be 9.48.
Bolt himself, despite a year plagued by injury, says he would like to set an unbeatable mark before he retires. "I'm hoping I get to be the one to get to 9.4 because that's where I think the record will probably never be beaten. I think it will stop at 9.4 – but you never know."
They are all wrong, according to one of the world's leading experts in the field. Frans Bosch, professor of biomechanics and motor learning at Fontys University in the Netherlands and a specialist in athletic performance, is one of the speakers at a groundbreaking conference in London this week. He believes that many predictions, often based on statistical calculations, are fundamentally flawed.
"As long as nobody knows the limiting factor in sprinting, then a prediction in that area makes no sense," says Bosch. "If you look at all the predictions that have been made so far, they're all based on one small aspect of sprinting. When you only look at that you lose perspective."
Bosch discusses the various theories, among them the assertion that sprinters' muscles will simply break down if pushed to their limits or that the brain is the decisive factor but is unable to process the signals fast enough. His own interest lies in the role that shock absorbers play in the movement stability of a sprinter. There is a great deal more to learn, says Bosch – a point on which many more scientists agree.
"It's very early stages in understanding," he says. "It could be many, many years still before we know more. If you look at a very important development in science over the last 15 years called dynamic systems theory and complex theory, we have learned that the answers to our questions are actually further away than ever before. We're probably not getting closer to the answer, we're just getting closer to asking the right questions."
Bosch uses the example of a BBC documentary in which the 400m world record holder Michael Johnson analyses Bolt's 9.58sec world-record run and points out his technical flaws in running – losing power by moving too much from side to side.
"It could easily be that, if he corrects it [in the way that Johnson suggests], he could be slower," Bosch says. "You usually see if someone has a poor sprinting technique because he's rocking to the side of his stand leg. So, if you have your left foot on the ground, then you're rocking to the left … that's been perceived as a flaw in technique. But with Usain Bolt it's the opposite. When his left foot is on the ground he's rocking to his right, when his right foot is on the ground he's rocking to his left. And if you look carefully at why this is happening it's because he's capable of producing forces on the ground much quicker than somebody else just because he's rocking."
So Johnson's theory is wrong? "Yes, exactly. They don't know why Bolt's doing that and he [Bolt] doesn't know it himself." Bosch believes that sprinting is so complex, and so variable in each individual, that "nobody, not even Michael Johnson, can calculate or tell or explain what the ideal technique for the body of Usain Bolt would be."
While the world is wowed by Bolt's achievements, Bosch views the French sprinter Christophe Lemaitre as an equally fascinating model for study – not, as most observers point out, because of his white skin but because of his body type which, like Bolt's, is long and lean. "Lemaitre is interesting because he's not strong at all, his physical capabilities are absolutely moderate – he clean and jerks 60kg and snatches 45kg [in the gym], which is almost at a recreational level. But what you see now more than before is sprinters like Bolt or Lemaitre, who are not as strength-based as the Ben Johnsons of this world, and are very tall. Maybe another body composition is emerging that is even more suited for reaching these tremendous speeds."
Even tiny genetic details within the human body can explain certain capabilities. Using a virtual model of a human body at the University of Amsterdam, scientists found that the point at which muscles are attached to the human skeleton can affect its performance. "They calculated a vertical jump, looking at what the influence was of the calf muscle, and they found it had no influence whatsoever of the jumping height," Bosch says. "Then they changed the lever of the calf muscle at the knee joint by about 2mm and they found it had a massive influence. It's only now science is beginning to model and calculate these things."
Dr Eddie Coyle, a professor at the University of Texas, is a specialist in the physiological factors that limit human endurance in sport and has worked with the cyclist Lance Armstrong for many years. He, too, will speak at the three-day UKSEM conference (UK Sport and Exercise Medicine) at which dozens of the world's leading experts in exercise, nutrition and human performance will present papers.
After Haile Gebrselassie ran the marathon in 2hr 3min 59sec in 2008 there was renewed speculation over whether anyone could run the distance in under two hours. Coyle is confident it is possible.
"Science says that we can predict a two-hour marathon and I think people have the ability, eventually, to run about 1hr 58min," Coyle says. "The two most important factors are how economical the runners are, how much energy they expend while they're running. The very best runners expend 30% less energy than an average runner. We don't know what that is due to. Some people think it's because they have less mass in their lower legs. That takes less energy. We don't really have any other credible theories … but it's unlikely there's one factor. Another factor is their ability to consume oxygen at higher rates while producing very little lactic acid."
Coyle says the 1:58 mark is based on the data and research available at the moment but, if there was more information to work with, that time could be reduced further still.
Gebrselassie, 37, is unlikely to be the man to take on that challenge but Coyle has earmarked another runner who could: Sammy Wanjiru, the Olympic marathon champion in 2008. "It was hot in Beijing and he still ran close to two hours," says Coyle of the Kenyan's Olympic record time of 2:06:32, almost three minutes faster than the previous best set in 1984. "That's a pretty impressive time for such oppressive conditions and he was so young at the time, only 21, which means he's got time to improve still."
Ellis Cashmore, professor of culture, media and sport at Staffordshire University, believes that human nature will continue to confound sports scientists by throwing up unpredictable variables. "People say Bolt's a freak. Actually he's not. Look at the history of athletics, of people defying expectations.
"Tiger Woods redefined the expectations of golf, so now we have golfers doing gymwork to become more powerful. Martina Navratilova, when she came along, was seen as a freak. She played such aggressive tennis, no one had ever seen a woman play like that before. Again she rewrote the script so that we then had Steffi Graf and the Williams sisters. Now when I look back at Navratilova playing it doesn't look at all strange to me but at the time it was a real 'wow' moment. Just as those athletes have done, the rules will continue to be rewritten throughout this century and we will continue to be surprised. The human element will always defy sports scientists."