http://www.athleticsweekly.com/blog/how-to-get-the-most-out-of-being-a-professional-athlete/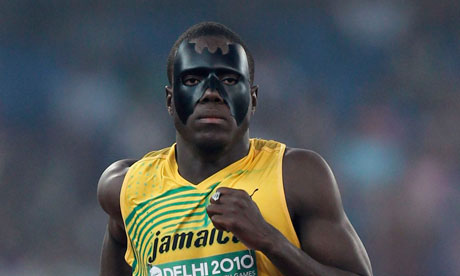 Jamaica's Ramone McKenzie in the first round of the men's 100m heat
at the Commonwealth Games. A little over the top, but he didn't go unnoticed.
How to get the most out of being a professional athlete.
Get more exposure, better publicity and maximise your earning potential by following a few simple steps.
by Jon Mulkeen
athleticsweekly.com
April 4, 2011
Every now and again the Athletics Weekly editorial team will receive phone calls or emails from athletes – as well as parents and siblings of athletes – asking why they are not featured more regularly in the magazine. Sometimes we simply apologise and appease them with a feature or an extended news item in a future issue, but in most instances we are not really at fault.
If an athlete wants to gain more exposure, then there is a lot that they can do to help themselves. There are some athletes whose reputation outweighs their achievements. They might not be the most talented athletes on the circuit, but they get more coverage and better sponsorship deals than world record-holders and Olympic gold medallists. Why? Because they know how to sell themselves.
Some athletes may say that they're not too fussed about getting more coverage. But if you hope to make a living from being an elite sportsperson, then it is in your interest to capitalise on that position as much as possible; make hay while the sun shines. This is the professional era of sports, after all – like it or not it is part of the job. Often, more exposure leads to better sponsorship deals and even lanes in top grand prix meetings.
Here are a few pointers, designed to help athletes get better publicity and maximise earning power. And by following this advice, athletes will have no need to ask for more exposure, because it will come naturally.
Talk to the press
One of the biggest reasons why athletes do not get more coverage is because they do not take time out to speak to the press. Athletics writers are generally a friendly bunch, so there is no reason to fear them – it's not like they are tabloid journos looking to expose the dirt. Quite the opposite, in fact.
Athletics writers are naturally big fans of the sport, and so are always on the lookout to write positive stories about track and field.
Not everyone finds it easy to speak to people they do not know, but it is worth taking the time to do so. The better you get to know athletics writers, the more they will want to write about you and the more coverage you will get. Conversely, if an athlete storms through a mixed zone with a face of thunder, it's not going to give the best impression to the sribes who were patiently waiting to speak to them.
Everyone has a bad race once in a while, but a simple "not today thanks" can help get the message across to the press in a polite way.
Tell us something we don't know
Everyone loves to hear something new, or to be told a story that no one knows. So when you speak to reporters (both written press and TV interviewers), try to let slip a snippet of original info – either something about yourself that most people do not know, an insight into your training, or a reflection of your feelings and emotions during the competition. As difficult as it might be to think of something original to say after a race when the brain is starved of oxygen, a little imagination can go a long way.
Chris Thompson is a great example of an athlete who doesn't shy away from saying something off-beat. His post-race interviews are always entertaining and quote-worthy. Who can forget classics such as: "I just thought I cannot come this far, and not get a medal. I didn't know what colour it was going to be,
but that was going to depend on how much I got my balls out – and they were hanging low today."
Also try not to use clichés. After a year or two on the job, I refused to include the line: "once I make the final, anything can happen" when writing a report. The same applies to all the other lines we've heard a hundred times over.
Don't forget the fans
Always try to make time for the fans. The athletes who are best at promoting themselves will routinely take a few minutes out after their competition to sign autographs. In the grand scheme of things, it doesn't take that long to do, and the value of building up a good rapport with the sport's followers is immeasurable. The same goes for fans wanting to take a photo with you – it takes just a matter of seconds of your time, but provides hours of joy afterwards for the fan who just had their picture taken with a world-class athlete.
Even in the odd occasions when you are pushed for time after a race and cannot afford a few minutes for autographs, then at least try to smile to the fans and thank them for their support. After all, these fans have taken time out to watch you and spent their money on buying a ticket – money which goes towards paying athletes' appearance fees and prize money.
It is definitely worth your while creating a good impression to fans, because a bad reputation can spread like wildfire. Even before she ended up in jail, I'd heard about numerous bad encounters that fans had had with Marion Jones.
Maximise social networking
We are living in a time whereby social networking is fast becoming the biggest communication tool. Millions of people use sites like facebook and twitter to connect with their friends and to find out more information about the things and people they like.
If you don't want to start accepting people you don't know as friends on facebook, then create a 'page'. That way you can keep a healthy distance, while still keeping your fans happy. The good thing about twitter is that it naturally keeps that distance anyway.
If you do choose to start a facebook page and a twitter feed, the most important thing is to keep it updated. You might think "why do people want to know what my new car (guys)/haircut (girls) looks like?" but remember – athletics fans see you as a kind of celebrity. The very nature of celebrity culture is about giving your followers an insight into your life. You needn't have to sell your soul to the public – the odd snippet of info (however trivial) every now and again will keep your fans happy.
Ya gotta have a gimmick
Of course it helps that Usain Bolt is a superhuman freak of nature. But a big part of his success in becoming a global superstar is down to his on-track antics – the dancing, the pose, the pre-race jokes. They are all things that help make him stand out.
When Joe Bloggs watches the sport, all they see is a bunch of Africans in the distance races, a load of Americans and Caribbean athletes competing in the sprints, and a group of East Europeans taking part in the field events. The more you can do to ensure you don't become a faceless athlete among the stereotypes, the better.
Bolt has his pose, Yelena Isinbayeva speaks to her pole before each vault, Haile Gebrselassie has 'the' smile, Carolina Kluft used to prop up her cuddly toy and get super-motivated before each event. Alongside winning medals, these gimmicks help make athletes more memorable to the fans watching them on TV.